Wednesday, January 31, 2018
Tuesday Bible Class - January 30 - 1st & 2nd Samuel
Arrogance of Vengeance
Have you ever grappled with whether revenge and vengeance are always sins? Listen to this lesson to learn when they are wrong and when they are legitimate acts of justice. See what the Bible means when God says that vengeance is His and He will repay. Find out that what motivates us to want to get even with someone and be vindictive is always arrogance. Learn that instead of personal vengeance we should put the individual who has wronged us in God's hands and apply love and forgiveness.
Click here to listen to or view this Bible class.
Monday, January 29, 2018
Sunday Bible Class - January 28 - Matthew
The Wrath of Man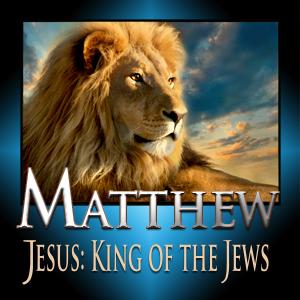 Do you find it difficult to listen to the excruciating events of the first three hours Jesus hung on the Cross? Listen to this lesson to hear the epic true story as Jesus' hands and feet were in horrific pain as the nails pierced the skin. Understand that it was not this physical suffering that paid the penalty for our sins. Learn about the two others who were crucified at the same time and see that they were probably rebels like Barabbas. Hear the first saying of Jesus from the Cross which emphasized His forgiveness for those who did not truly understand what they were doing. Learn that the sign they put over Him identified what the charges were against Him.. Realize that Jesus was able to rest in God's provision as a demonstration that we should have a like mental attitude when we are suffering.
Click here to listen to or view this Bible class.
Friday, January 26, 2018
Thursday Bible Class - January 25 - 1 Peter
Mental Focus of Spirituality
If your life needs to change, your thinking needs to be changed. Listen to this lesson to hear the truth that will open your eyes and change your life. Find out that having the right mental attitude is of supreme importance. Learn that it is by studying the Word of God and walking by means of the Spirit that we learn the standard of God's thinking called Divine viewpoint. See that Jesus Christ is our example and it is by arming ourselves with Scriptures that we are trained and begin thinking about the things God wants us to think about. Understand that we are to demonstrate in our lives that God's viewpoint is right and resolve that we are no longer going to handle our problems by sinful thoughts and actions.
Click here to listen to or view this Bible class.
Wednesday, January 24, 2018
Tuesday Bible Class - January 23 - 1st & 2nd Samuel
Grace vs. Arrogance, Stability vs. Fragmentation
Why does the Holy Spirit pull back the curtain on the chaos and sinful events conspiring after Saul's death? Listen to this lesson to learn what happens when sin natures are in control. See the contrast here with David who mirrors God's mercy and kindness to people. See the importance of knowing the geography of the area in order to follow the occurring events. Find out that when family loyalty is stronger than loyalty to God there are tragic consequences and fragmentation. Understand that a nation cannot have stability when it is in arrogance and rebellion and the only solution is to submit ourselves unto God.
Click here to listen to or view this Bible class.
Monday, August 21, 2017
New Video from The Museum of the Bible
Memorial Service for Gene Brown
You can listen to or view the memorial service for Gene Brown by clicking here.
Sunday, June 04, 2017
Sunday, June 4 Bible Class
Special Guest Speaker
Due to the sensitive nature of our guest speaker's comments, we will not be posting the audio or video files for Sunday's class.
Friday, March 17, 2017
2017 Chafer Conference Concludes
The 2017 Chafer Seminary Pastor's Conference has concluded and was a tremendous success. It was one of the most attended conferences since West Houston Bible Church started hosting them.
One of the highlights of the 2017 Chafer Conference was the installation of Chafer Seminary's new president, Andy Woods.
Chafer Theological Seminary governing board members that were present at the 2017 Chafer Conference are from left to right, James MacGillivray, Mark Musser, Paul Schmidtbleicher, Charles Clough, Robert Dean, Andy Woods, Clay Ward, Hal Hagemeier, Dan Inghram.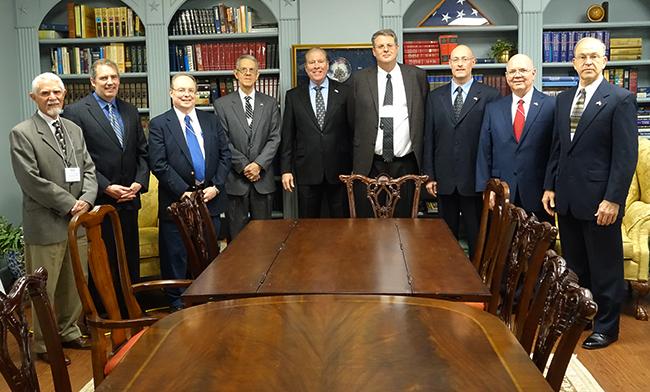 To watch or listen to all of the presentations and download all papers and slides, click here.
Monday, March 06, 2017
Sunday Bible Class - March 5 - Matthew
The Sign of His Coming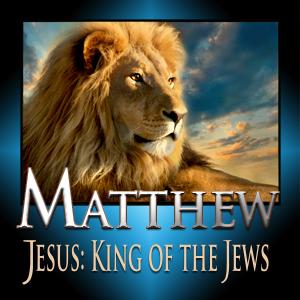 Does the Bible mean what it says and should we take it literally? Listen to this lesson to hear how precise the directions are to the Christian Jews living in Judea when they are told to flee. Find out the significance of Jesus' warning about false messiahs and false prophets. Hear a description of the powerful, dramatic coming of Christ when He returns to the earth. Learn what the gathering by the angels is and see that our response should be to realize God is in control of history and will fulfill all His promises.
Click here to listen to or view this Bible class.
Sunday, February 26, 2017
Report from Dr. Dean in Kiev
Hello from Kiev
For one of the few times in memory, the trip here was not only uneventful, but went quickly especially at arrival—out the door and in the car in less than 20 minutes from touchdown. The only glitch was at Houston where I got a going away present, a nasty cold which hit hard about 2 hours into the flight. Such are the plans of God.
The first Sunday I spoke at the church on the parable of the hired workers in Matt 20:1-13. Since my course this year is on Judgments and Rewards, I thought this would be a fitting introduction and also a challenge to the congregation. We are to serve God fully, trusting that He will reward us graciously at the Bema.
By Monday the cold really asserted itself and I rested and read.
Classes began on Tuesday and the first week we focused on the 9 Judgments of God, from the cross to the Great White Throne. The students, ten this year, are among the best of the last 16 years. They asked good questions. For many, the study of the Bema was one of the most eye-opening. Some of these new students have never been taught much in the Christian life, so they are all motivated and excited about what they are learning. One of the young ladies was quite excited about what she had learned and told Jim that she finally had an answer about why we should live the Christian life. Some people she knows have challenged the understanding of a free grace gospel by asking if we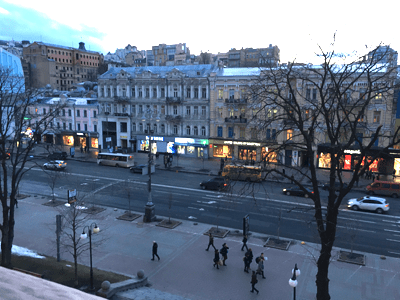 are fully saved when we believe, then why not just live a life of sin. The answer she found is that we will still be evaluated for rewards at the Judgment Seat of Christ.
The cold finally departed yesterday, thankfully. Today I spoke on the Rich Young Ruler in Matt 19 at church. Afterwards, I met with Igor and he updated me on Julia. She does not have cancer and her recovery from surgery is going very well. They are extremely grateful for our prayers and the financial help.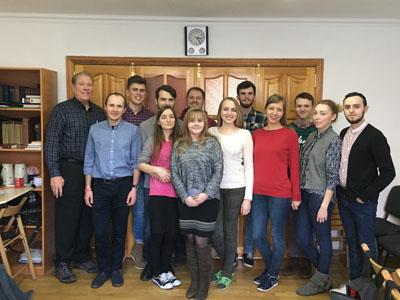 This next week I cover the topic of Rewards. Please pray that the students can fully understand the importance of grace and the right motivation for rewards. I fly back on Friday and it will be a long trip with a tight connection in Amsterdam. Pray that the trip will have no complications.
Robby