Free Bible class DVDs
You need to be registered and logged on to the Dean Bible Ministries website in order to place an order for DVDs.
If you aren't registered, please click on "register a new account" at the bottom right of any page.
Once you are registered (and logged in), "Order DVDs" will appear in the top menu bar. Click Order DVDs and the DVD Orders page will appear. Please read the text on this page to determine which kind of DVD you wish to order. Then in the left column under DVD Menu, you can select Single Class DVDs or Multi-Class AVI DVDs to choose the DVDs you'd prefer. You can order up to 18 DVDs per month.
Click on the Bible Study Series you'd like to order.
Using the navigation buttons at the bottom of the page, review the pages for the series to find the DVD(s) you'd like to order.
Click "Add to cart" to add the DVDs to your shopping cart.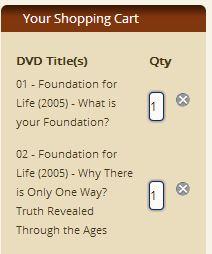 Your Shopping Cart in the left column will show the DVDs you've added to your order. You can change the quantities of DVDs you'd like and/or remove the DVD from your cart by clicking on the X.
Click on Bible Study Series (or other submenu items) in the left column again to display icons for other series. You can then click other series and select other DVDs to add to your shopping cart.
Once you've added all of the DVDs to your shopping cart, click Checkout in the DVD Menu.
You will then see an order summary. You can change quantities and/or delete items at this stage of the ordering process. Once you're satisfied with your order, click Next.
Your mailing address is now displayed. If you'd like to have these DVDs mailed to another address, click on New and enter the appropriate name and address information. You can also click on the pencil/paper icon to edit your address information. Click OK.
Once the name/mailing address is finalized, click on Next. That completes your order. Shortly you should receive an e-mail from Dean Bible Ministries with your order number, the summary of your order, and your mailing address.
Note that the DVDs that you place in your shopping cart will stay in your shopping cart for up to 30 days. You may place your order at any time.