Dean Bible Ministries
Roku Channel
We now have our own custom Roku channel called DBM-WHBC. This will provide direct access to our live stream as well as a month's worth of archives. To install, simply do a search on your Roku for DBM-WHBC. Once you find it, select install. It's that simple.
Archives of our Bible class videos are also available on our Vimeo channel as well as our YouTube channel.
Marriage and the Family Conference
Sponsored by Chafer Seminary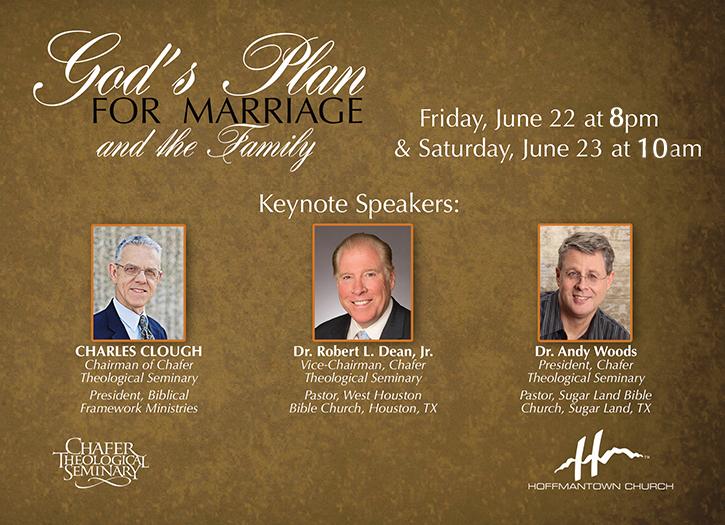 There is little doubt that God's design for marriage and the family are under tremendous assault today from virtually every side. Modern marital and family life constitutes a great source of struggle for most. Many are even seeking to redefine these important institutions. Consequently, our culture finds itself in great confusion on these vital subjects. Yet, are these institutions really ours to redefine?
In such an environment, a fresh look at God's blueprint for marriage and the family is desperately needed. Despite the contemporary moral chaos, we can observe that God's eternal Word speaks directly to these very issues, just as it does to every area of life. Since God is the Author of these institutions, they are not subject to mere human redefinition and manipulation. God has a plan and program for each of them. Consequently, this seminar is dedicated toward retrieving the original design for marriage and the family (Gen. 1–2), explaining how this original design was marred due to the Fall of Man (Gen. 3), and then outlining the Scriptural path toward living out the original design of God in a fallen world (Eph. 5:22–33). To this end, we hope that you will take advantage of the sessions.
Join us Friday, June 22 at 8:00 pm (CDT) and Saturday, June 23 at 10:00 am (CDT) via livestream at http://hoffmantown.churchonline.org/ to take a fresh look at God's blueprint for marriage and the family, as Hoffmantown Church partners with Chafer Theological Seminary for the "God's Plan for Marriage and the Family" seminar at Hoffmantown.
We look forward to seeing you there as we grow together in our understanding of God's eternal blueprint for marriage and the family. Our guest speakers will be Charlie Clough, Dr. Robby Dean, and Dr. Andy Woods.
Conference Schedule
Day
Time
Speaker/Subject
Friday,
June 22
8:00 PM


Charlie Clough – God's Original Design for Marriage as a Pre-Fall Institution in Genesis 1–2


Saturday, June 23


10:00 AM


Andy Woods – The Negative Impact of the Fall on Marriage and the Family in Genesis 3


11:30 AM


Robby Dean – God's Answer for Marriage and the Family in a Post-Fall World


12:35 PM
Q&A with Charlie Clough, Robby Dean, and Andy Woods