1 Samuel 22:1 & Psalm 57:2-11 by Robert Dean
Over and over in the Bible we are told to trust God. How do we do that? Listen to this lesson to hear four things we need to do to start down the path of relying on God for everything. See that we must switch our thinking from focusing on our problems to God's loving kindnesses by reading in the Psalms about God's wonderful works as expressed through His names. When we truly trust God we can rest and relax because we know that God has a plan and He's carrying it out and we have nothing to fear.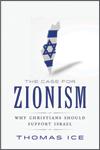 During this class Dr. Dean mentioned a new book authored by Dr. Thomas Ice called The Case for Zionism: Why Christians Should Support Israel.
Series:
1st and 2nd Samuel (2015)
Duration:
1 hr 1 mins 32 secs